Laser-View Technologies' Crane Sentry® Zone Manager provides an off-the-shelf system for keeping EOT cranes from interfering with structures under a crane runway. Crane Sentry® provides highly configurable systems that can prevent accidental damage to in plant modular offices by creating No-Fly Zones around each area.
Cranes are often used to transport tooling and materials near buildings under a crane runway in a facility. For example, it is common to have coil storage near a shipping office in a processing facility. An in plant modular office should be kept safe from a loaded crane.
Accidental interference can lead to several problems:
Injury to personnel
Damage to structure
Damage to tooling or materials being transported
Downtime to evaluate the incident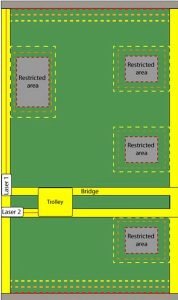 Commonly referred to as No-Fly Zoning, competitors provide systems that use encoded wheel position, limit switches, or non-contact sensors. Laser-View Technologies' Crane Sentry® Zone Manager provides systems that use long range laser distance sensors in 2 axes capable of measuring up to 500m.
This technology provides an absolute position that does not require mechanical positioning of limit switches or re-zeroing of encoders.
Zone Manager is based on real measurements, not just proximity. For shorter crane runways, we can even measure on a natural surface without installing a special reflector.
With the Crane Sentry® Zone Manager, a virtual box is made around the restricted zone using (2) laser sensor axes. Zone Manager is a packaged solution that is easy to install and intuitive to configure.
As displayed in the image, Zone Manager creates a coordinate-based virtual box around multiple restricted regions and can be configured to monitor several user selectable conditions. One laser monitors bridge position, the other laser monitors trolley position. 8 relay outputs interference with bridge and trolley direction. Optional expansion outputs interface with machinery below in the crane bay.
Key features:
Up to 8 zones
2 axes measurement: bridge and trolley
Simple and intuitive color touch screen controls show set point and live readings
Program set points with simple TEACH button or key in values
Automatic slow and stop zones, with independent parameters for each zone
Override functionality
Remote I/O available as an option to interface with machine work centers
Visible red eye safe laser spot
Measures up to 500m with a reflective target plate; 100m to a natural target
Crane Sentry® Zone Manager has the following key advantages over the competition:
Up to 8 zones in (1) 2 axes system
Up to 500m of measurement range
No reflector required for shorter runways
Visible red eye safe laser spot
This heart of our system is a robust measuring device and is not treated as a proximity sensor. You read a live value and teach/enter actual set points to determine zone perimeter.
Live error handling algorithm
Controls are housed in its own enclosure, ready to mount
Built-in override function
The Crane Sentry® product line is designed, manufactured, marketed, and sold in the USA by Laser-View Technologies for crane collision detection, zone control, and positioning applications.
Interested in learning more about the Crane Sentry® family? Click here to contact Laser-View Technologies.