Dimetix laser distance sensors offer an accurate and easily integrated non-contact technique of measuring hole depth. Measuring the depth of a hole or deep bore can be challenging. Examples of scenarios in which this is necessary are:
Level to afloat in a tank
Water level in a deep wellbore to afloat
Bar stock position in a machining center feed tube
Hole depth gaging in machining operations
Deep bores are not practically measured using mechanical means. Other non-contact techniques, such as ultrasonic, often have problems with reflections from the inner walls of the bore. Laser distance sensors can be a good candidate for solving this measurement challenge.
Hole Depth Measuring Techniques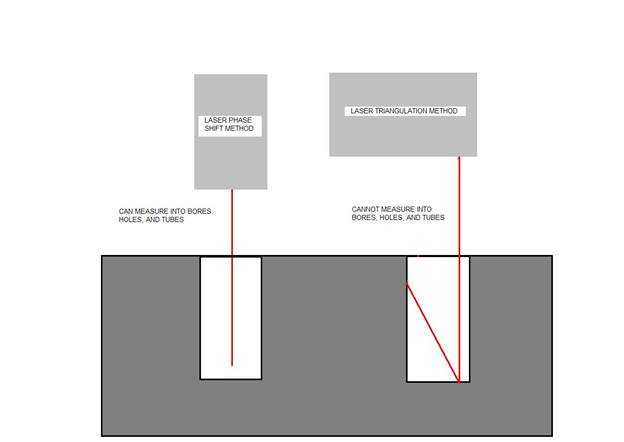 Dimetix laser sensors operate based on a phase shift principle. The receiver and transmitter are both mounted on the sensor and are close together. As a result, the signal comes back to the sensor directly.
Triangulation type laser sensors cannot measure deep bores because the retuning laser signal cannot exit the bore and return to the sensor's reeving element.
Non-Contact Measurement of Hole Depth
Dimetix laser distance sensors are rugged, accurate, cost-effective, and easily integrated into most customers' control systems. These lasers are the ideal choice for the measurement of a hole's depth.
The Dimetix D-series laser distance series from Laser-View Technologies provides the best position sensors to achieve the following key characteristics:
Small spot size: Approximately 0.15" spot size close to laser; grows to only about 2" size at 100m
Extended temperature ranges from -40 to +60 C available
Up to 500m measuring range
Up to 1mm absolute accuracy over the entire range, independent of color, texture, and actual distance
Fast measurements up to 250 Hz with 1 kHz output
Variety of outputs:
Built in standard: RS232, RS485/422, SSI encoder, analog, digital I/O
Optional: Ethernet IP, Profinet, EtherCat available integrated to the sensor make integration Allen Bradley and Siemens controllers simple
Full line of accessories:
NEMA 4X & explosion rated enclosures
Mounting brackets
Cabling
Displays and process meters
Interested in learning more about Dimetix laser distance sensors measuring solutions? Click here to contact Laser-View Technologies.