Deshazo Automation in Bessemer, AL has designed, built, and commissioned an impressive fully automated coil yard crane for NUCOR's Berkeley, SC mill. The system automatically handles and tracks steel coil stacked double height. As a manufacturer of mill duty process cranes, Account Manager Daniel Drennen and his team have incorporated their proprietary LiDAR and vision-based object detection, Dimetix non-contact, long range lasers from Laser-View Technologies, automated motion control, and inventory tracking into a complete solution for NUCOR.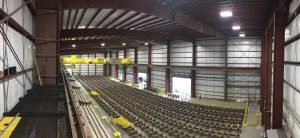 One of the challenges of the project is that sensor redundancy was needed as part of the safety precautions for this automated system. Deshazo decided on a set of three Dimetix DPE-10-500 laser distance sensors for crane bridge position over a 100 m range.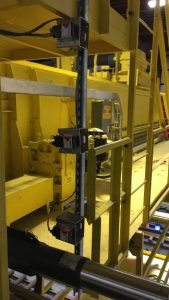 Ethernet IP communication was used for main positioning and analog output was used with the other lasers. All three lasers were aimed at the same target mounted on the rail end stop. The lasers are spaced about 20 inches apart.
Dimetix lasers were chosen for this project based on the successful integration of the laser sensors in past crane projects Deshazo has completed. The lasers were specifically selected because of the following characteristics:
Long-range
Small spot size
Simple to integrated Ethernet IP interface
High speed
Stable output
Technical Support available in USA from Laser-View Technologies and our distribution partner, Southern Controls
Product stock available in USA from Laser-View Technologies
Initially, a different model of Dimetix laser sensor was used but after asking several questions, we determined that the Dimetix DPE-10-500 model was the better choice. Laser-View promptly supplied the new lasers the following day to solve any issues.
Dimetix laser sensors in general have the capability of measuring out to 500 meters with up to 1 mm accuracy. With their Ethernet IP, Profinet, and EtherCat interfaces, these laser sensors are ideal for overhead crane projects.
Interested in learning more about Dimetix laser distance sensors? Click here to contact Laser-View Technologies.