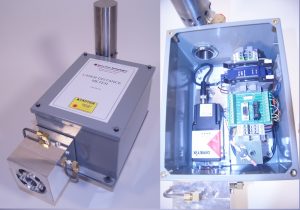 Laser-View Technologies recently shipped four re-engineered laser slab width measuring units to a steel mill restarting in Ohio. The mill is upgrading to high-tech laser width measurement.
A pair of laser distance meters that have been supplied are equipped with precision laser distance sensors from Dimetix, installed in a rugged sealed and protective enclosure. The units include a Dimetix D-series laser distance sensor, related power controls, high capacity Vortec cooling, and our proprietary turbo lens purge.
The entire enclosure is cooled and includes a proprietary air purge for the laser window to keep the optic clear of debris for a long duration. These laser units will be installed just several feet from the outlet of the caster and will measure slabs that are about 2500°F.
This is an updated design of systems that Laser-View Technologies supplied years ago to Arcelor Mittal Burns Harbor and Outokumpu Calvert. The previous unit was installed with Dimetix FLS series sensors and to this day, they have been measuring great and staying clean with our special air purge.
This mill chose Dimetix laser sensors because of their ability to measure on the hot surface with superb accuracy and the value-added accessories and support provided by their USA distributor, Laser-View Technologies.
To learn more about our non-contact measurement solutions, click here to contact Laser-View Technologies.