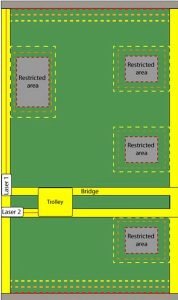 Laser-View‌ Technologies ‌President, Steven Lubeck, recently spoke about‌ ‌the‌ ‌benefits‌ ‌of‌ ‌no-fly‌ ‌zoning overhead‌ ‌cranes. ‌In his speech, he discussed the difficulties of using multiple types of cranes in the same space with other material handling equipment, and how operators have ‌a hard time maneuvering them safely around each other.
Steven explained that in order to create a no-fly zone for this equipment, controls and sensors that communicate between the crane and the related machinery are required. He explained that this setup can be accomplished easily through the use of a no-fly zone system such as Crane Sentry® Zone Manager Series.
A system like this can allow operators to create fixed boundaries with ease and prevent collisions. This can then decrease the safety risks involved with operating heavy equipment and machinery. 
By opting for a system like Crane Sentry® Zone Manager II, operators can experience greater ease with creating no-fly zones and they can improve their overall crane safety and reliability.
Interested in learning more about this system works? Contact Laser-View Technologies today for more information.